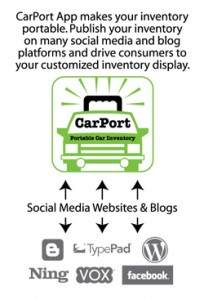 The CarPort App™ will allow car dealers to "park their car inventory" throughout the Internet. The CarPort App will improve standard blog posts and articles with live inventory. The tool will allow dealers unlimited publishing opportunities for their cars; the possibilities are endless.
Best of all, the CarPort App™ inventory listing changes in real time so a blog post written today, will have changing inventory every time the page is read. CarPort App™ knows when you add new cars to your feed so your articles never show sold inventory.
CarPort App™ can display inventory in the sidebar RSS widget of many websites, in a blog post or in a text widget on NING, Facebook, Vox, and others! There are unlimited possibilities on how CarPort App can extend the visibility of the cars that you sell online.
Having actual cars that you have in stock, that day, on a page when a consumer reads your content will increase the opportunity for sales. The pages you create outside your website are "living" and connected with your inventory.
CarPort App™ works on WordPress, Vox, TypePad, Facebook, Squidoo, and dozens of other web publishing platforms.