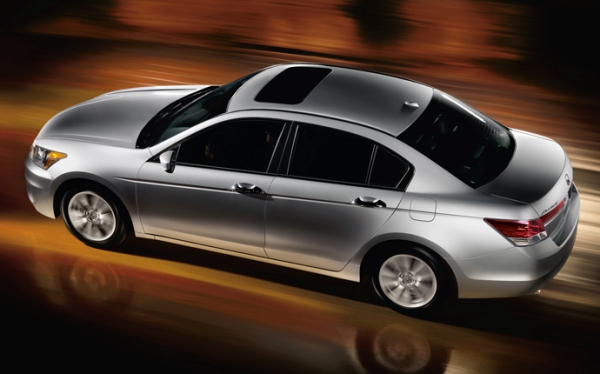 The Honda Accord is one of the strongest names in the automotive business, and it's easy to see why. With a plethora of standard and available features, sporty stance and one of the most powerful engines in the market, the 2012 Honda Accord LX is set to be the leader of this segment for many years to come.
The 2012 Honda Accord combines a unique balance of style, performance, efficiency and value within a diverse range of spacious sedan. The 2012 features and specifications remain similar to the 2011 model year when the Accord received upgrades for fuel economy and styling.
2012 Honda Accord's on Sale Today:
The Honda Accord LX comes standard with a 177-horsepower, 2.4-liter, i-VTEC 4-cylinder engine. Aerodynamic body features, low-friction engine technology and optimal transmission gear ratios all contribute to excellent fuel efficiency. Equipped with a 5-speed automatic transmission, the Accord returns an EPA-estimated 23/34/27 mpg city/highway/combined. For more information on performance, visit our Honda dealership near Seattle today!
Honda Dealer Near Seattle Presents 2012 Honda Accord LX's Gorgeous Interior
The Accord Sedan's exterior conveys an upscale and powerful presence with a prominent two-bar grille consisting of chrome-style crossbars, windswept headlights, inset character lines along the body sides and distinctively-shaped C-pillars.
The comfortable and spacious interior is complemented by high-quality materials with an emphasis on switchgear refinement. A hallmark of Honda design, the Accord exhibits simple and intuitive ergonomics with the audio, climate and vehicle controls organized by expected frequency of use. Often-used climate-control buttons are positioned on the left side of the center stack within easy reach of the driver for quick access.
The 2012 Honda Accord for sale near Seattle earned the National Highway Traffic Safety Administration's (NHTSA's) best-possible Overall Vehicle Score of 5 stars. Helping the sedan achieve its top overall score were 5-star ratings in each of the three combined categories of overall frontal crash safety, overall side crash safety and rollover resistance.
About Klein Honda:
Klein Honda is franchised by American Honda Motor Co., Inc. to offer for sale a full line of vehicles with standard and special options manufactured under the trade name of American Honda. In conjunction with this franchise, Klein Honda offers for sale a full line of quality, genuine Honda parts and accessories as well as full service support. A separate business management department at Klein Honda offers vehicle leasing as an option to purchase as well as vehicle financing.
Our Parts, Service, Sales, and entire Support Team share in the same goal of providing and maintaining the highest level of customer satisfaction. Whether online or in person, we invite you to experience our hassle-free sales environment. We make it easy to shop for a Honda. Experience our hassle-free sales environment. We offer to you our best price, selection, and service on any new or used Honda in Seattle, Washington. Come visit Klein Honda!